Malta Residency by Investment Program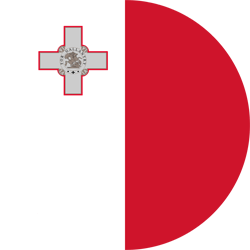 Becoming a Resident of Malta Guide
The Republic of Malta is an archipelago consisting of 3 islands (Malta, Comino and Gozo), known for their sunny weather and attractive beaches.
Valletta is the capital of Malta. The country has two official languages, Maltese and English, with the majority of its population speaking both languages.
Malta is ranked 5th on the list of highest value passports in the on the list of highest value passports in the world, facilitating visa-free travel to over 180 countries.
The country is one of the only three Commonwealth member countries in Europe.
Malta has also been a member of the European Union since 2004 and the Schengen Area since 2007.
MALTA INDIVIDUAL INVESTOR PROGRAMME (MIIP)
The programme offers the right to citizenship in Malta and enables passing it on to future generations.
The citizenship programme also provides access to investment opportunities in Malta, as well as throughout the EU.
The Malta Individual Investor Programme (MIIP) provides beneficiaries with the fundamental freedoms of the EU and grants visa-free travel within the Schengen Area.
WHY BECOME A RESIDENT OF MALTA?
1. Valuable passport: Malta's passport is ranked amongst the top 10 most powerful passports worldwide. The country's citizenship programme facilitates visa-free access to 183 destinations.
2. Straightforward application process: If all criteria from the applicant are met, an application can
get approved within 8 months and citizenship is granted just after 12 months residency.
Schengen access: The programme provides a fast track Schengen access through a Malta
3. Schengen access: The programme provides a fast track Schengen access through a Malta residency card
which needs to be applied for until the citizenship application is approved and the passport is issued.
4. EU approved: The programme is formally approved by the European Commission and provides the
benefit of establishing your business across EU countries.
5. The right security for you and your family: Aside from Malta being one of the safest places in the world,
you and your family will also benefit from the high quality of life, healthcare, education, property rights
and ease of doing business.
6. Stability: Malta maintains a stable social, political, legal, economic, and regulatory climate.
ELIGIBILITY REQUIREMENTS TO BECOME A RESIDENT OF MALTA:
Main applicant: The main applicant for the programme needs to be at least 18 years of age.
Dependents: Eligible dependents include the spouse, children (up to the age of 26), parents, and
grandparents (over 55 years of age).
Fit and proper test: The Government of Malta applies the highest standard of due diligence. Applicants must have a clean criminal record.
Health insurance cover: Applicants and their dependents must prove that they have good health and covered by an appropriate health insurance policy.
Financial contribution: Applicants are required to make a non-refundable contribution to the National
Development and Social Fund.
INVESTMENT REQUIREMENTS FOR ACQUIRING MALTA's RESIDENCY:
There are three mandatory requirements which serve as a qualifier for your application under the Malta Individual Investment programme:

REQUIREMENT 1
Monetary contribution to the National Development and Social Fund:
Main applicant: EUR 650,000 contribution
Spouse and children (under 18 years): EUR 25,000 contribution
Dependent parents and unmarried children (18 – 26 years old):
EUR 50,000 contribution.

REQUIREMENT 2
Qualifying Investment:
EUR 150,000 value in debt or equity securities listed on the Official List of Malta's Stock Exchange.
These are to be kept for up to 5 years.

REQUIREMENT 3
Investment in a qualifying property:
Both options require the property to be kept for 5 years.
Applicants must make a property investment of at least EUR 350,000.
Applicants can also enter into a property rental contract for a minimum of EUR 16,000 p.a.
Both options require the property to be kept for 5 years
APPLICATION PROCESS AND TIMELINE:
Prepare supporting documents for residency application.
Sign documents before a Maltese Consul or notary.
Residency card fast track will be issued within 1-3 weeks.
You will then be required to submit a health insurance
policy.
Month 2-5
Full citizenship
application
Prepare supporting documents and application file.
Submit application.
Review of application by the authorities
Month 6-11
Contribution
& other
requirements
Purchase or rent a qualifying property.
Invest in approved securities.
Contribution to the National Development and Social Fund (to be paid within 25 days of letter of approval).
Month 12
Receive
citizenship
Once all the above requirements have been satisfied and proved at least 12 months residency you would receive an invitation to take the oath of allegiance following which your passport is issued.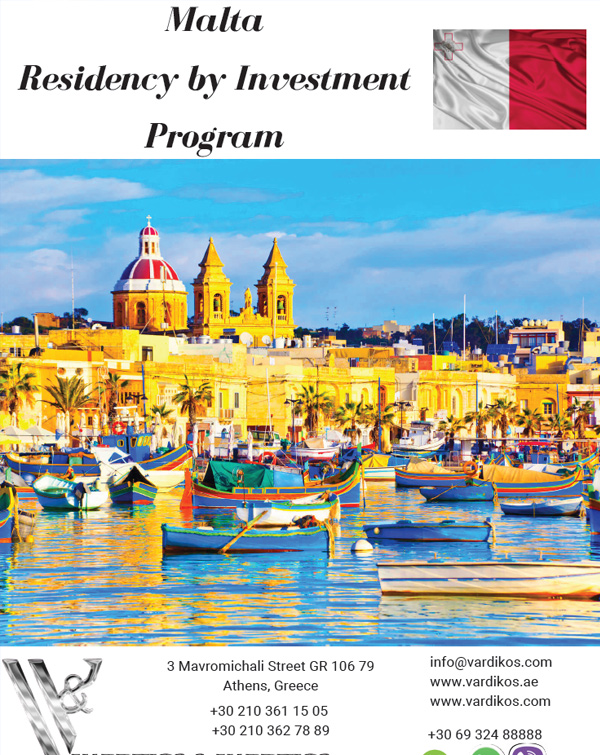 Malta Residency by Investment Program

For any further information or clarifications please do not hesitate to contact us at: [email protected] or
alternitavely and for any other inquiries, please call us direct via +306932488888
Call Us
Tel. No. GR: +30 210 3627888-9 | +30 210 361 1505 | +30 6937 22 88 88 | +30 6934 555 555
Tel. No. DOMINICA: +17672853888 | +17672751888
Tel. No. UAE: +971506689558
Tel. No. MALTA: +35699884534
Tel. No. CYPRUS: ‭+357 99 202422‬ |‭ +357 22 332040‬
Emergency and A.O.H.: +306934555555 , +306937228888
Fax: +30 210 361 78 48
Dominica Office :
36 Great George Street Roseau
Commonwealth of Dominica
00112 West Indies
Antigua & Barbuda Office:
P.O. Box W834
Ocean Heights
Hodges Bay
St. John's, Antigua WI
St Lucia:
20, Micoud Street, Castries
P.O. Box 189
Saint Lucia
Cyprus Office:
Flat 210
2-4 Arch. Makarios III Av.
1065 Nicosia, Cyprus